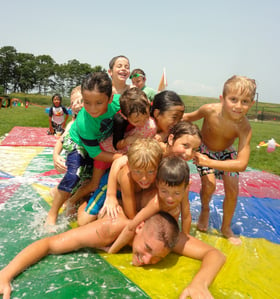 It's almost too easy to come up with excuses as to why you can't volunteer to help out with your child's team. Just imagine if you did though. If you gave up some spare time to help out, how might that feel?
Time isn't something that many parents spare. Between working, caring for the children, and keeping a home, you're probably exhausted enough as it is. Add to that the social commitments, some downtime, and spending time with your extended family, and you're probably wishing there were more hours in the day.
It's easy to come up with excuses as to why you can't be the one to help out with your child's sports teams. After all, you're busy, tired and surely another parent must have more free time than you. But will you be missing out if you pass up on this opportunity to really get involved in your child's favorite pastime?
Here are five reasons why you should volunteer with your child's sports team:
#1: They Need You
There isn't much money in youth sports, not at the school level anyway. Your child's team is probably struggling to get by on a limited budget. Yes, you could cut them a check, but your time is worth much more to them. They want parents who are involved, engaged, and supportive. Although you may not know, you have some skills that could benefit the team. Whether you're a wiz at writing press releases, an expert fundraiser, or own a van that could be used to transport equipment, the team needs you.
#2: Extra Bonding Time
Going to watch the games is great, and you're already an amazing parent. But getting involved in the team will give you that extra little bit of bonding time with your kid. It may also give you more of an insight into what your child is like outside of the home. You may see him on the pitch every week, but volunteering will allow you into the backstage area too, and that's a very different field.
#3: It's Supportive
Telling your kids you support them is great, but showing them is even better. What better way to support your child's team than by being a part of it? Your child will know just how much you support them when you start volunteering your spare time to help them out.
#4: Community Spirit
One small way you can improve the world is by making positive changes in your local community. By helping out your child's team, you are getting involved in your local community and offering the skills and time they need to offer a better service. By volunteering, you could help the team reach out to more children, improve their game and offer the children better opportunities.
#5: That Warm, Fuzzy Feeling
Do you know what makes you feel good about yourself? Doing something worthwhile. Giving up one night in front of the television each week in favor of some voluntary work is pretty much guaranteed to leave you feeling awesome. By contributing your time, you will be making a difference in the lives of people in your local community and your own family. Go on, get stuck in and enjoy that warm, fuzzy feeling after doing something good.