Is your child crazy about soccer? Or maybe they're looking to learn the fundamentals behind the most popular sport on the planet?
Future Stars Soccer Camp is where they need to be.
Before you rush to sign them up though, it's important to know what Future Stars Soccer Camps are all about. Let's dive into what you can expect once they get here and what makes our soccer camps so special.
Why Soccer Camp?
Future Stars Soccer Camp offers many benefits for campers. We'll quickly cover some of the highlights and why soccer camp is a great choice for both beginners and veterans of the sport.
Learning new skills
Our experienced coaches and college players can help newcomers and veterans learn brand-new skills (many of which we'll get into soon).
Whether it's a camper who has never played soccer before or a camper who has been playing soccer for years, there's something new for everyone to learn.
A director with tons of experience
The Future Stars Soccer Camp is directed by Anna Edwards, a coach at New York Soccer Club.
Anna has a wealth of experience in the sport of soccer, from her time playing with the NCAA-D1 Minutewomen, who were ranked top 25 nationally, to her time spent coaching the very same team.
Anna's unique career in both playing and coaching soccer makes her the perfect candidate for teaching campers both beginner and advanced soccer techniques.
Making friends and forming connections
Learning new soccer techniques and skills is important.
However, the most important aspect of any summer camp, regardless of the theme, is the opportunity for campers to make new friends and form meaningful connections.
Future Stars Soccer Camp offers the perfect opportunity for campers to meet other like-minded individuals and create lasting friendships.
What Skills Are Learned in Soccer Camp?
Every week, campers will be appropriately grouped based on their skill level. Before participating in match play, campers will learn soccer skills ranging from beginner skills to advanced tactics. Some of the skills learned at soccer camp include:
Dribbling and ball mastery
Soccer agility drills
Game understanding
Technical skills
Physical development
Functional training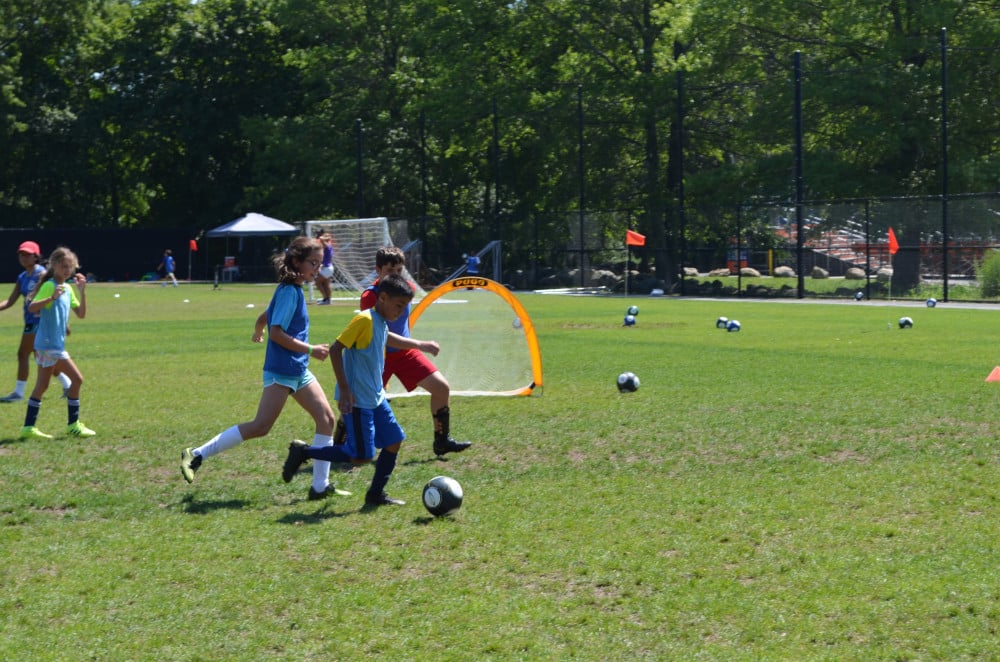 What Skill Levels Are Welcome at Soccer Camp?
How Future Stars handles skill levels at our various camps has been covered in a previous blog, and our soccer camp follows the same pattern.
All skill levels are welcome at Future Stars Soccer Camps!
Once campers arrive, we group them based on experience and skill level. This ensures that campers receive the proper soccer knowledge and training. Those new to the sport will learn basic rules and fundamentals, while more advanced ball handling and other technical skills can be taught to our veterans.
Future Stars Soccer Camp Locations
Our soccer camp is currently being offered at the following locations:
Future Stars Soccer Camp Offers a Fulfilling and Exciting Camp Experience
Summer camp is all about learning new skills while creating long-lasting memories with other campers.
This is exactly the experience that our soccer camps offer.
Whether your child is new to the sport entirely or they've been at it for years, Future Stars Soccer Camp is the perfect place for them. Children will create meaningful connections with other campers while enjoying the sport that they love.
We have prepared a Camp Comparison Checklist that makes it easier to compare your summer camp options in one place. Track costs, program activities, dates, locations, and more, so that you can make informed decisions about your children's summer activities and enrichment.