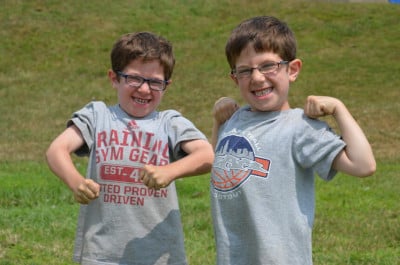 When it comes to registering for summer camps, early enrollment is always the best option. It ensures that campers have their spots reserved and helps camp staff organize the best possible camp experience.
However, we understand that certain circumstances can come up that throw a wrench in these plans
Campers can get sick. Something can come up where they won't be able to show up to camp for a certain week. They might even discover a different program that excites them more than their chosen program.
That's okay!
Future Stars camps make every effort to accommodate these changes, when possible.
Here are some of the most common questions we get about our camp flexibility, from refunds to switching programs and more.
How Many Weeks Do Campers Need to Register For?
There is no limit and no minimum requirement for the number of registered weeks at Future Stars camps. Campers can register for a single week, or they can register for every available week during the summer. It's totally up to you.
If a camper is enjoying themselves for their week at camp and decides that they want to do more, there is an option to add weeks onto their program, depending on program availability. However, it's always best to register as early as possible to guarantee successful enrollment.
Are Half Days Available?
Future Stars Camp programs are designed as weekly sessions that begin on Mondays and conclude on Fridays. During these weekly sessions, the program curriculum progresses at an appropriate pace to accommodate the skill sets and knowledge of our campers.
Because of this, we don't currently offer the option for half or partial days. Our progressive curriculums aren't designed to accommodate these partial days at the moment.
What is the Future Stars Refund Policy?
Future Stars offers a full refund for all cancellations before February 1st. Unfortunately, we cannot offer refunds after this date. Our refund policy is designed this way to ensure that our camp programs remain organized and our numbers are accurate to offer the best possible camp experience.
What Happens if a Camper is Sick or Misses a Day?
If a camper is sick for one day during the course of the camp program, they can simply return the following day if they're feeling better. We understand that these things happen.
If for any reason, a camper is ill or injured before their scheduled camp week and cannot make any of the days, it's possible for them to switch their week (provided that there is availability for the chosen week). Your site-specific office will be able to inform you about camp program availability for certain weeks.
Can Campers Switch Programs?
Some children will try a new sport at camp and decide it isn't for them. Or some campers are loving the program that they are attending but are enrolled in a different program the next week. It happens. If your child decides that they no longer want to continue with a particular program or stay with their current program instead of switching to a different one, don't worry. Depending on camp program availability, there may be an option to switch to a different program.
For more information, contact your site-specific office to determine program availability.
Can Campers Transfer Weeks?
We understand that circumstances may arise where camp dates need to be moved. If we have availability during a different time frame, campers can switch weeks to a more convenient time.
Looking For More Information on Future Stars Camps?
Our staff is happy to help. Reach out to the Future Stars team with any questions about Future Stars camps.