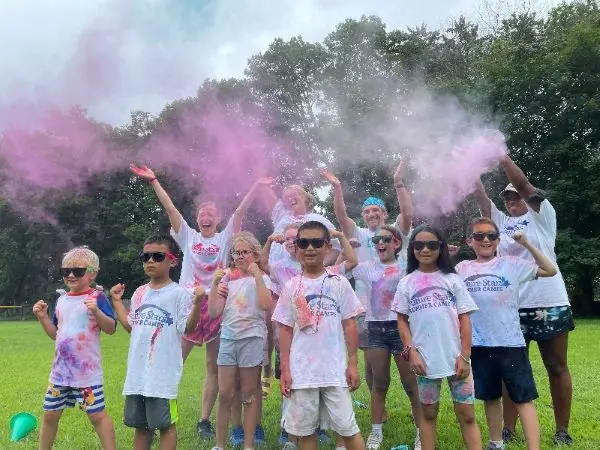 When it comes to summer camps for kids, pricing is often one of a parents' first questions.
There's no one-size-fits-all answer here. Camp prices vary from inexpensive day camps to more expensive premium camp experiences, and even day camp prices in New York alone span a wide range.
While we can't speak for other camps, we can talk about what goes into the price for Future Stars camp.
How Much Does Future Stars Camp Cost?
Future Stars camp costs vary depending on several factors, including:
Location
Camp choice
Number of weeks
Extras (Transportation, extended days, sibling discounts, etc.)
Future Stars weekly camp cost ranges from $300 per week for some of the half-day multi-sport programs to $1400 for the premium explorer camps. As a rule of thumb, the core sports programs, such as soccer and basketball, typically cost less than the premium programs, such as S.T.E.A.M. academic camps or adventure camps.
What Do You Get for the Price?
The cost of summer camps might seem high at first until you understand what you're getting for the cost.
Three different elements go into the costs of a premium camp experience:
Camp facilities
Activities
Camp staff
Camp facilities
Future Stars hosts camps at 7 different locations. Each of these locations offers a premium facility with plenty of space for indoor and outdoor activities. Our costs help keep our locations in top shape and allow us to update them accordingly based on camper needs.
Depending on the location, you'll find a multitude of quality indoor and outdoor amenities, such as:
An Olympic-sized indoor pool
Several full-size soccer fields
State-of-the-art indoor technology labs
Pristine tennis courts
Regulation indoor and outdoor basketball courts
Each location hosts different camps and uses different facilities, but the premium feel is present at every location. Our camp locations offer a seamless blend of indoor and outdoor fun to ensure that every camper gets what they want from the Future Stars camp experience.
Activities
Future Stars has something for everyone, from basic sports camps to academic camps and beyond. A sampling of our camp offerings include but are not limited to:
Basketball
Baseball
Soccer
Multi Sports
Tennis
S.T.E.A.M. education
Circus arts
Magic
Offering this many activities has its own set of costs. For every activity we offer, there are costs associated with equipment, specific facilities, and even some costs that might fly under the radar. We strive to offer a premium camp experience for all camp activities, not just the most popular options. We fully understand the diverse interests of our campers and want to make sure that every camper leaves Future Stars with a sense of fulfillment in their specific activity.
Camp staff
Staff is arguably the most important of the three elements that make up the Future Stars camp experience. Without top-notch camp staff, we wouldn't be able to offer the experience we're known for providing.
Compared to less expensive camps, Future Stars provides a better staff ratio to campers. Instead of the bare minimum staff, we aim for a ratio of 1 staff member for every 4 to 8 campers, depending on camper age. This practice gives us two significant advantages:
It helps ensure that our campers are safe
It allows us to cultivate relationships with our campers to elevate the camp experience
The cost of our camps also goes towards providing adequate training for our camp staff. Our camps rely on our staff to be properly trained in safety protocols and how to best connect with campers.
Our camp staff is the frontline for providing the highest quality camps possible for our campers.
Does Future Stars Camp Offer Discounts?
Unfortunately, Future Stars prices are firm, and this is because we retain amazing staff, top-notch facilities, and a wide range of activities for campers.
However, we do offer early enrollment discounts for families that plan ahead.
We prefer early enrollment since it allows us to plan out our camps more effectively and ensure staff coverage for each camp. Typically we offer two early enrollment specials each year. The first one with the biggest opportunity to save is in November and then another one in February.
Ready to Register for Future Stars Camp?
Future Stars camp makes it well worth the cost of admission. Don't miss out. Enroll today for the best possible pricing!
Check out the Future Stars Camp Programs here.