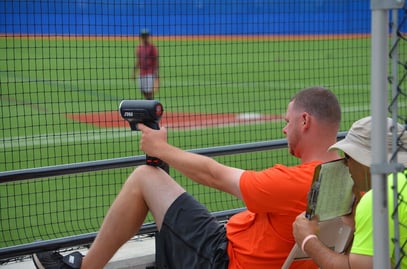 Essentially all parents will tell you that all they want for their child is happy. You want your child to grow old and happy, spend his days doing something he loves, surrounded by people who love him. So, how can you help him achieve that dream job in the field?
Turning a hobby or a passion into a career is most people's idea of heaven. Being paid to do something you love, and earning a living while enjoying yourself, is pretty much a universal dream. "If you do what you love, you'll never work a day in your life."Parents especially love to help this dream become a reality for their growing children.
If your child is gifted at sports and passionate about the game, he is probably dreaming big and hoping that he will one day play professionally. As his parent, you want to believe it can be done, but you also know how slim the odds are for anyone wanting to become a professional sports player.
So, what can you do to help increase your child's chance of achieving pro status?
Keep it fun
Your child wants to be a professional sports player because he loves the sport. To allow him to compete to be a pro, you need to let his love for the game continue. This means following his lead, letting him play as often as he likes, and not 'forcing' him to play when he doesn't want to. The game he loves shouldn't feel like a chore, it should be something he loves doing most of the time.
Encourage diversity
Most professional sports players played a variety of sports when they were growing up. Committing to a single sport too soon actually increases the risk of injury. You may want to encourage your child to spend time playing as many sports as possible, and not just sports that you feel will complement his favorite sport; let him experiment with any sport he wants. All sports improve fitness and teach important lessons in confidence, self-esteem, coordination, and social interactions.
Seek out opportunities
There are plenty of opportunities out there for your child to get noticed. Seek them out and encourage your child to give them his all. There are summer sports camps, county teams to try out for, scouts to play in front of, and sports scholarships to win. Consider yourself your child's career coach and help him make the most of the opportunities available.
Be realistic
It's important to stay realistic, and it's even more important to help your child stay realistic too. There is nothing wrong with dreaming big or aiming high, but it's important to know that it will require a lot of hard work to reach the top. Make sure your child works hard on his studies and spends time on other hobbies and passions so that he has a fallback plan in place. There are many ways that your child can turn their love of a sport into a career beyond playing.
Nurture him
A career in sports isn't easy. Once the struggle to the top is over, and you're signed to a professional team, there is plenty of hard work and pressure to come. Your child will need to grow up and know how to handle stress, react well under pressure, and cope with the emotional strains of both winning and losing. The best way to teach these skills to your child is to model them yourself. Nurture your child, give him the best start in life, and allow him to grow into a well-rounded adult who can excel at sports, even when it comes to coping with being at the bottom of the league.
Are you the parent of a future professional sports player? What steps are you taking to help your child achieve his dreams? What other ways can your child stay involved in sports as a career?