It's nearly time for another fun summer at Future Stars with our popular Adventure Camp at Purchase College. The camp runs weekly from July 8th to August 2nd and is for boys and girls in grades 5 through 10. We're pleased to have seasoned Camp Director, Jamie Tranchida running the program again in 2019.
Jamie has degrees in Physical Education and Fitness Development from SUNY Cortland. He subsequently earned his Masters Degree in Curriculum Development from The University of Western Connecticut.
The early years
We spoke with Jamie to get an understanding of what motivated him to become an Adventure Camp Director at Future Stars including how his role as a physical fitness educator came to be.
Jamie grew up in North Salem, New York with three brothers. Says Jamie, "Every chance we got, we would run out the door for adventures around the neighborhood, either on bikes or on foot. We would be gone for hours, wandering in the woods, playing in streams, riding our bikes, or visiting our neighborhood friends."
Jamie recalls, how his mother would walk onto the porch to ring "the bell", which meant he and his brothers needed to get home ASAP for dinner. "If we were out of rings reach," Jamie explained, "she would start calling the neighbors until she eventually found us. It was an amazing time of my life and where the "adventures" all began."
Jamie explains, that he was less-than-enthusiastic about his first camp experience as a child. Says Jamie, "I first attended camp as a rising third grader. It was a month long sleepaway camp and I was quite reluctant to get out of the car on day one. I was used to my small town and the friends that I had known since kindergarten, so it was a very big step."
Luckily, it didn't take Jamie long to adjust and he soon loved the camp experience.
"I can honestly say that I did not enjoy my first few hours very much," says Jamie. "After some time, I made a few friends and got lost in the fun and adventure. I quickly took to the activities that involved team building, responsible risks, and being in nature. At that point, I had not been exposed to learning through experiences by a teacher or counselor, so it was fun for me."
Jamie's early camp experiences often inform how he works with the children in the Adventure Camp program. "I try to remember my camp experience when engaging the campers on their first day," says Jamie. "I start with a team-building activity focused on the concept, Challenge by Choice."
All campers are encouraged to take challenges they are comfortable with. It's fun to watch them progress to things they never thought they were capable of. This year, Adventure campers will surf, kayak, sail, hike, climb, tackle ninja warrior elements, and complete high ropes courses full of zip-lines and balance obstacles. All the while, they will push themselves, develop trust in others and grow as individuals."
"My hope is for campers to have a moment during the week where they surprise themselves with something they enjoyed or accomplished. I often prompt campers at the conclusion of each day to reflect and find that they are able to better understand what they've learned when asked to put it into words."
Present-day Jamie
As an adult, Jamie's natural curiosity led him to seek out new places, people, and adventures around the country and world, sometimes accompanied by a brother, friend or his wife.
"As a PE teacher, my schedule has allowed me time for these travels," Jamie says, "I am now a father of two little girls, with another on the way, so for the time being my adventures are local and shorter, but just as amazing."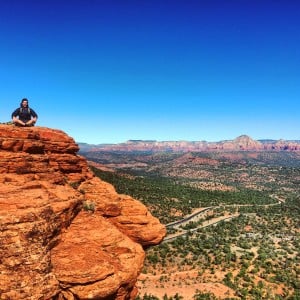 Jamie went on to explain how he connected with Future Stars as a camp Director. "When I had the opportunity to take a summer job as the Adventure Camp Director at Future Stars, I jumped at it. Future Stars gave me the chance to not only enjoy all of the adventurous activities our area has to offer, but offered the rare and amazing opportunity to share my passion for seeking new experiences through activity."
We asked Jamie what he likes most about directing the Adventure Camp program.
Jamie replied, "Watching campers step out of their comfort zone, make new friends, acquire new skills and find confidence that, in my opinion, can only be realized through taking responsible risks makes this my dream summer job."
We also asked Jamie, what brought him to Future Stars Camps, and how he ended up in the Director role for the Adventure Camp program.
"I was lucky enough to be recruited to work at Future Stars camp by Jordan Snider, the Director of Operations for Future Stars and the Director of the Purchase location," Jamie said. "I taught both of Jordan's children and that is where my connection was made."
Several years ago, he asked if I would be interested in working the Football Camp, but I was involved in my own adventures. Then, just three short years ago, he asked, if I knew anyone who would take on the challenge of starting an Adventure Camp. He explained it would be the first year at Purchase and the director could help design the curriculum. My oldest daughter was just under one year old and I knew I was not leaving for the travels that I had grown accustomed to. I accepted the lead role and began excitedly planning."
Jamie's philosophy inspires our Adventure Camp program
Jamie has turned the Adventure Camp into something truly unique and special for our campers. His goal has always been for all of his Adventure campers to have new experiences. This includes meeting new people and building relationships based on trust and shared experiences.
"I hope I can inspire my campers to pursue adventurous activities as a means of living an active lifestyle long after their time at Future Stars," Jamie explains. "As a Physical Education teacher, I have a deep interest in helping individuals find hobbies that keep them active, healthy, and in good balance."
Leading an active lifestyle is essential to overall health and wellness. Outdoor adventure and leisure activities are great ways to check that box. The activities that we offer at Future Stars can be pursued and enjoyed for a lifetime. The counselors that I hire are certified Physical Education teachers that lead active lifestyles and pursue new experiences in their natural environment."
Like all good educators, Jamie has a few favorite quotes that he lives by.
"My favorite quotation is difficult to narrow down as all situations call for different words, however, these 5, passed on to me by my parents and other life teachers, can cover most of what life throws at me."
Carpe' Diem- Seize the day
Leave a place better than you find it
Treat others the way you want to be treated
Jamie's collaborative philosophy extends to every aspect of his role as Adventure Camp Director. "Working with teachers and outfitters who have a positive mindset and love new challenges are qualities and attributes that can trickle down to the campers," Jamie explains.
"This helps them engage with a positive and willing attitude. Camper experience is impacted by our behaviors and company, so it's important to make sure to work with like-minded individuals who put our campers needs first. A great day is when our campers are smiling and learning."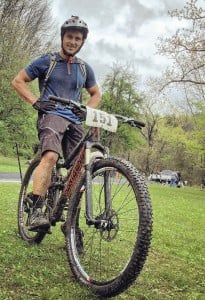 ***
For more information about the Adventure Camp at Purchase college, visit our program page which includes session dates, weekly itineraries, and enrollment information.
Image Credit: Jamie Tranchida