Bill Griffin has a storied history as a tennis player and instructor. He played tennis at Boston College and, after graduating in the late seventies, he was the Director of Tennis at the Larchmont Yacht Club for 28 years.
He is credited with popularizing After School Tennis programs in more than 30 local elementary schools in the eighties and played the early professional Platform Tennis circuit while also directing some of Westchester's best indoor junior tennis programs at several top clubs.
A Love of Tennis
Bill partnered with co-founder of Future Stars Charlie VanDercook in 1995. Says Bill, "What initially brought me together with Charlie and Future Stars was a mutual friend and a shared love for tennis. I played high school tennis at Mamaroneck and after college lived and worked with a teammate who later partnered with Charlie and began Future Stars."
"As much as anything, what ultimately drew me to Future Stars was the love for sports my father fostered in me at a very early age. After the yard work and house chores had been done, Dad and I would spend endless hours as pitcher and catcher, or quarterback and receiver, shooting jumpers, hitting golf balls, lacing them up for a little hockey when the pond froze, playing ping pong, swimming and diving, wrestling or hitting the heavy bag and the 50 yard dash. I didn't win too often, but I got a good education on how to blend hard work and play hard. Last but certainly not least, we did play tennis."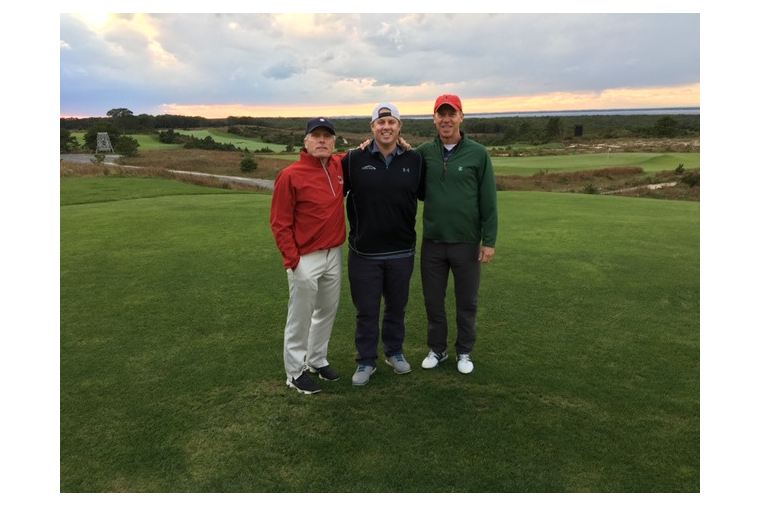 (L-R) Charlie VanDercook, Chris Griffin & Bill Griffin
The Early Years
Bill played many of the above-referenced sports as a youngster and throughout high school. He gradually began focusing more and more on tennis. "I was fortunate to play college tennis at Boston College," says Bill. "It was during those years that my passion really blossomed."
Bill also played a lot of Platform Tennis during those years and competed on a national level. It was through a Platform Tennis mentor that he landed his first job teaching tennis.
Says Bill, "Doug Russell was offered the job as Tennis Director at Beach Point Club and was looking for some young assistants to support his efforts. When he discovered that I played college tennis and lived just miles from Beach Point, he decided to take a chance on a young kid with no prior teaching experience."
For Bill, it was a no brainer. He got to work teaching a game he loved. "I got to wear shorts, sneakers and short sleeve shirts to work," Bill says. "I got paid five times the weekly pay I made the previous year with the Town Parks & Rec Department. The rest, as they say, is history."
From Playing to Teaching
Bill had caught the teaching bug. He enjoyed teaching tennis and people seemed to appreciate the coaching he was espousing. Following his inaugural season at Beach Point Club, a tennis comrade from juniors introduced him to an opportunity at Colony Beach Club to run their fledgling tennis operation.
Says Bill, "I was extremely fortunate and basically put myself through college with the earnings from these positions."
Following graduation and my second summer at Colony, I began teaching Paddle Tennis at several clubs in the area, notably: Larchmont Yacht Club, Westchester CC, Manursing Island Club, Wykagyl CC, Pelham CC, and others as paddle was enjoying a boom in the 70's & 80's."
Following six months on the paddle courts with very active adult and junior programs at Larchmont Yacht Club, Bill learned the summer tennis position had opened up and was asked to interview.
"My good fortune was I had just spent six months working with the membership on the paddle courts," Bill explained. "Based on that sample of work, the selection committee decided maybe this young 23-year-old could handle the position. In retrospect, following twenty-eight years of enthusiastic service, I think they were right!"
In the late eighties, interest in Paddle Tennis began to wane, so Bill decided to teach indoor tennis. He approached Charlie at Future Stars, who at the time, was running the instructional programs at New Rochelle Racquet Club.
Says Bill, "once again, the timing seemed right and I was asked to direct the tennis programs at NRRC. After a very strong run at New Rochelle, it was time to move on and spread our wings. Charlie and I formed our initial partnership at Harbour View Racquet Club in Mamaroneck."
Their partnership flourished. Future Stars added Armonk Tennis Club to their portfolio of clubs, and built out Armonk Indoor Tennis & Turf, and subsequently, Southampton Indoor Tennis & Turf.
"We specialized in Junior Instructional Programs and employed an extraordinary staff of dedicated professional that mentored many juniors who went on to have great success at the high school and College level," Bill says.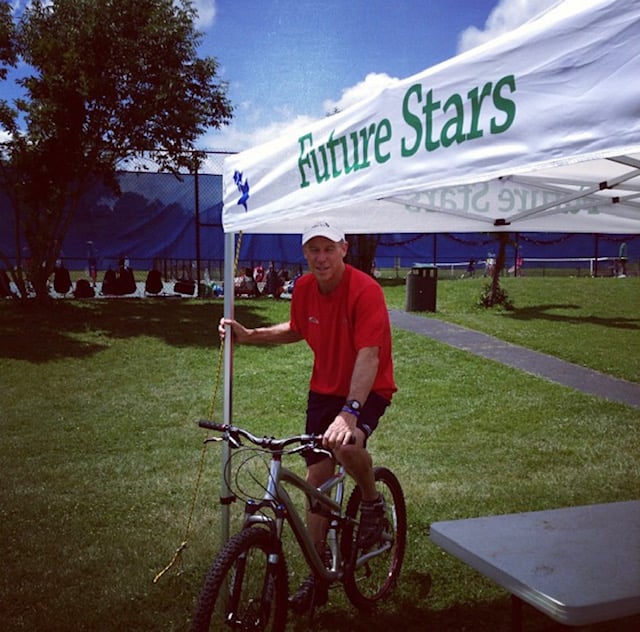 Bill making his way around Purchase campus
Future Stars Summer Camp at Purchase College
Shortly into their indoor tennis partnership, Bill and Charlie decided to join forces in the Future Stars Summer Camp at Purchase College which Charlie had started many years prior.
"Our partnership was thriving," Says Bill. "We were a very complimentary team. We shared many of the same interests. We loved the outdoors, the fresh air, playing sports and games, competing, an entrepreneurial spirit, working with people, and most of all teaching eager young campers how much fun tennis can be when you work at it."
Just as Bill and Charlie's indoor tennis business had taken off, their camp business began to skyrocket. They realized that their passion for tennis and teaching youngsters crossed over perfectly into all the other sports.
Says Bill, "We started adding new camp programs like basketball, baseball, lacrosse and then circus arts to the roster. Following our success at Purchase College, we decided to explore new opportunities at other sites.
Now all our campus programs include nearly 25 different programs, not only in sports but in the arts & sciences, technology, engineering, and education. We adopted a very holistic approach. We try to offer a wide range of programs that will appeal to families across a broad spectrum. Our primary goal is to help campers enrich their talents, explore new frontiers and develop appropriate social dynamic skills that will serve them well as they move through this complex and challenging world."
A Childhood Filled with Fun = the Future Stars Experience
In carving out their niche, Bill and Charlie together with their valued site directors Jordan, David, Chris, Sean and John, have worked hard to find the perfect balance between proper technique, focused hard work, good natured fun, and the proper respect for the various talents and expectations each individual brings to the party.
"We like to help each camper get as much as they choose to get out of each day they are with us," Bill explains. "Our coaches, teaching staff, and counselors are the best in the business. They have all trained and studied very hard to refine their individual gifts and they are prepared to share and guide our campers through the best and worst of days."
Although, most of these opportunities were serendipitous, when thinking back on his childhood, what Bill loved more than anything was playing with his friends. Says Bill, "Everywhere we went, the park, the river, the basement, the movies, the museum, the pool, the backyard, the back sat of the car, we would invent fun and games. We would see who could launch the farthest off the swing. Who could go hand over hand the farthest on the bottom of the pier before falling in the water, who's leaf, or twig, would race down the stream fastest. We designed miniature golf courses in the dirt using pine needles to frame the fairways.
"Cardboard box races down the stairs turned into homemade boxcars racing down the street. Building cities of sheets in the living room on rainy days turned into climbing through unfinished new home construction. Walking on the top of fences like balance beams and climbing apple, cherry and chestnut trees, and building snow jumps for our saucers were as common as throwing down the boots for an ice or street hockey game, playing some 3v3 basketball in someone's driveway, or ping pong and pool in someone's basement. The creativity, fun and exploration never ended, until of course it was time to crack down and study!"
Bill didn't attend camp as a child, but he participated in local town swimming, tennis, football and baseball, boy scout, and teen programs. Says Bill, "In retrospect, it feels like this wonderful business Charlie and I have developed is the perfect fit for me. I certainly didn't know it would turn out like this. I feel extremely lucky that I was fortunate enough to turn my passion for fun and games into a thriving business. I have always been happy in this business and hope that I have inspired some young campers to enjoy themselves along the way."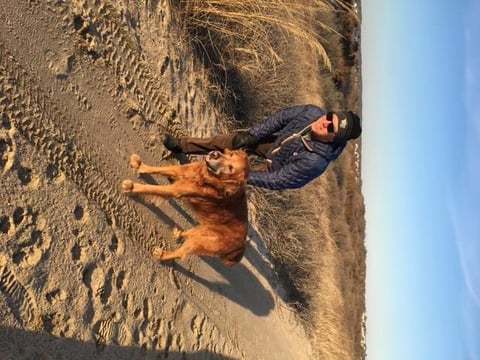 Bill and his buddy enjoying the outdoors
The Next Generation of Sports Enthusiasts
Bill reflects on how his appetite for summer camp has spilled over with his children. "Four of my five children have worked for me at various summer programs," says Bill. "My son Chris has decided to make a career of it and currently runs our program at Farmingdale State College on Long Island. I think they've all recognized the enthusiasm I wake up with each day and the positive impact you can have on people's lives when you spend days and weeks and months and years working with them, training them, mentoring them, caring about them and supporting them.
"We like to empower our staff at the start of every year and challenge them to add value to the program. Bring something vibrant and new that will engage and inspire the campers. "Give it the Moxie" my father used to say. Give it a 110% everyday and I guarantee you will be richly rewarded. The kids will love you. You will be exhausted at the end of each day. You will sleep soundly and at peace with yourself. And when it's over you won't have a clue how it went by so fast."
***
For more information about the variety of sports programs at Purchase, or to enroll, visit our Future Stars Camps page, today.
Image Credit: Bill Griffin