Future Stars is proud to welcome Josh Arbo as the newest STEAM Director for our Purchase Location. Josh brings with him a wealth of experience including a background in music and a love of science.
We sat down with Josh to get to know him, including getting a better understanding of his early influences, how he formed his current teaching philosophy and his approach to the STEAM program at Future Stars.
The Early Years
Josh attended nature camps as a child and elaborated on his experience as a young camper. "I was always a little nervous on my first day of camp, but soon we all made friends and had a great time." Josh attended the Mountain Laurel Waldorf School in New Paltz, NY from grades one through eight and this influenced his approach to learning and teaching.

Says Josh, "In 8th grade, we went to a very intense wilderness camp called Deep Wilds where we learned basic shelter construction, making fire with a bow drill, strategies for moving through the forest quickly, and quietly, and all the things a person needs in order to survive alone in the wilderness."

Josh's Wilderness camp experience culminated in a 24-hour solitary survival experience with nothing more than the clothes on his back and two liters of drinking water. It was a tremendous character-building experience.

"Obviously the STEAM program will be pretty different from my camp experience out in the woods as a kid," Josh explained, "but I expect it to be a similar confidence building, skill-sharing, and bonding experience. I really believe that many of our subjects - coding, 3D printing, robotics, electronics, and the like, are only going to become more important as these kids grow up.
"The more of a handle they can get on these subjects now, the farther ahead they will be when it comes time to apply those skills. I can only imagine where I would be today if I had learned this much about these subjects at a young age."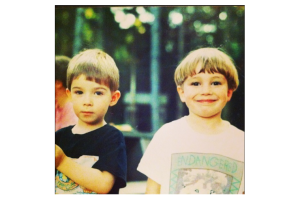 [Josh (age 5, right) with a now lifelong friend, at Free Spirit Nature Camp]
Early Influences

Josh's brother, Clayton, influenced his interest in technology. "Clayton built his first computer at age 13 with nothing more than a 'For Dummies' book, a pile of parts, and an early Internet search engine to guide him," says Josh. "Which reminds me, we have a build your own PC course on week three that I'm very excited for!"
Both of Josh's parents are musicians, so a love of music was instilled in him very early on. Says Josh, "My dad is a professional bass player and my mom composes music and has sung in choirs for many years. From a young age, I was interested in music and often would play around on the piano."
Josh was a very scientifically minded kid with a deep interest in paleontology, biology, and chemistry, but it wasn't until he attended college that he was able to combine the two disciplines of music and science.
Advanced Education
"At Purchase College, I went for a mixed music composition/music technology degree and started to seriously pursue an interest in technology," explains Josh. "For me, the technology is so much more than a means to an end. Part of what separates STEAM from STEM is the A (art) aspect.
"At the music conservatory, we talked a lot about the intersection of art and technology, and whole genres of music and literature have arisen out of that. STEM is the hard science, number-crunching side of the equation. STEAM incorporates more self-expression and artistic applications. It's the perfect marriage of two of my favorite things: science and art. So while this wasn't my plan from the get-go, it makes sense that I would end up here."
Josh goes on to explain his approach to STEAM Education. "In a way, the idea of STEAM almost mirrors the Waldorf education I had as a child," says Josh. "They both function on the premise that there is an artistry to everything, and that incorporating art into education has a positive impact on creative thinking, originality, and emotional development.
"I originally started teaching for MacInspires almost four years ago, doing music technology-related classes, and expanding out from there. It just sort of fell into place. It wasn't until recently that I noticed the parallel in the way I was educated, but it makes sense."
MacInspires was founded by one of our other STEAM Camp Directors, Travis Sluss. "As it turns out, Travis and I met at Purchase, we both went for music degrees, though his was pure production and mine was mixed composition/production." We asked Josh what he feels separates Future Stars STEAM Programs from other camps in the area.

"This will be my first year with Future Stars," Josh said, "But so far one of the things that sets it apart from other camps I've worked at is a serious commitment to giving our campers a way to pursue their interests and get a running start in life. One of the things, I valued greatly about my own education was that I was given some freedom to decide what interested me and what I wanted to learn about. I'll be very happy to play even a small part in providing that to the next generation of talented people."

This year the Future Stars STEAM program at SUNY Purchase will be offering the same subjects that campers enjoyed last year. "I'm hoping to incorporate some more advanced circuit design concepts during our Circuit Adventures session," says Josh.

"A lot of what I've been learning the last year involves fixing or building audio circuits, but I'm also excited for filmmaking. We will have a 3D printer on the premises and I'm looking forward to surprising some of the athletic programs with 3D printed trophies (did I say surprise? Whoops!)

Josh's Vision for STEAM Camp at Purchase

Josh's goal as a STEAM camp director is for his campers to delve deeply into subjects that fascinate them, and also to be exposed to other subjects that they didn't know they were interested in.

Says Josh, "Technology can be such an enigma. How 'it all works' is only getting more complicated. I think demystifying these subjects goes a long way toward really understanding our relationship with technology and its role in our lives. It's more important now than ever before."

"People often say that one shouldn't compare themselves to others - that the only person you are ultimately competing against is yourself. I feel such pride when a student can look back on themselves and really see the progress they've made. For them to see that a sustained effort always gets results and that learning new skills can be a really fun and exciting experience too."

Josh highlighted his deep belief in the power of educators to help influence children. "Our counselors are invaluable in terms of making sure every camper has the guidance they need," Josh explains. "When the counselors are as excited about the subjects as I am and as the kids are, it really helps everything fall into place. I expect we'll have a great time!"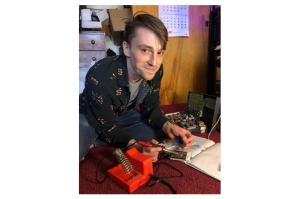 Josh's Philosophy
We asked Josh to share a favorite quote or mantra, something that he lives by and hopes for all who work or attend Future Stars camps.

"People use the phrase "Namaste" a lot these days," says Josh, "It can mean a lot of things to a lot of people, but my favorite translation that really helps me put my head on straight is:
"The light in me acknowledges the light in you"
"I think education, in general, is as much a practice of recognizing the light in young people and allowing them to focus in on what they're interested in, as it is introducing them to new subjects, and encouraging them to keep an open mind. If there's one thing I really owe to my Waldorf education, it's that. They really try to teach each individual person, and I try to do that as well."
***
For more information about the variety of STEAM programs at Purchase, or to enroll, visit our STEAM page today.
Image Credit: Josh Arbo