Summer camp is a great opportunity for kids to have fun, learn new things, and make lifelong friends.
However, it can also be intimidating for children to be in a new environment and meet new people.
Some children are naturally introverted—and that's okay! Summer camp can still be a fantastic experience where they can meet new lifelong friends with similar interests.
To help your child's confidence, here are some tips and advice for your children to make new friends at summer camp.
The Top Seven Tips for Making Friends at Summer Camp
1. Listen and Show Interest When Meeting Others
When building relationships and making new friends at summer camp, being a good listener certainly helps.
Encourage your child to show interest in what others have to say and actively listen to them. This sends a message that your child values others and is genuinely interested in getting to know them. In turn, other kids are more likely to want to spend time with your child. (And who knows what common interests they may discover!)
Active listening also demonstrates empathy, which is a key component of building strong relationships. This is a skill that will last beyond summer camp and serve your child for years to come.
Practice listening skills at home with your child by sharing stories and anecdotes, and asking them questions to help engage active listening skills.
2. Be Approachable
Being approachable is a crucial aspect of building new relationships and making new friends—when your child is approachable, other children will feel more comfortable around them!
Whether you're a child or an adult, being approachable is easier than you think – all it takes is a smile.
The simple act of a smile puts others at ease, helping them feel comfortable enough to start conversations.
3. Make New Friends by Participating in Group Activities
Participating in games and group activities is one of the most effective ways to build connections and make friends at summer camp.
For starters, it's a shared experience. This can help create a sense of camaraderie and mutual understanding, which can form the foundation for lasting friendships.
It's also a collaborative atmosphere that breaks down barriers through cooperation and teamwork – who doesn't love a good game of tug-o-war?
Camp counselors and staff can help children make friends, too. After all, many of them have been in the same situation before! Camp staff are trained to make the group activities as fun and inclusive as possible, promoting new friendships and relationships.
Lastly – it's fun! Activities help kids let their guard down by focusing on the task at hand – instead of their anxieties – so they can relax and be themselves.

Whether attending camp for a team sport, such as soccer, baseball, or basketball, or a solo sport, such as golf, it's safe to assume your little camper will have opportunities to participate in group exercises.
4. Always Be Yourself!
One of the most important things for your child to keep in mind when attending summer camp is to be themselves.
It can be tempting for your child to try to fit in by pretending to be someone they're not. However, this approach is not only tiring, but it doesn't serve your child in the long run.
When your child is unapologetically themselves, they project confidence and authenticity to develop meaningful friendships with like-minded people.
Every child is special and has incredible, unique qualities—qualities that deserve to be celebrated!
5. Build Relationships by Helping Others
Offering to help others with tasks or activities is a great way your child can make new friends and show they care about other people.
By helping other kids, your child creates opportunities for interaction and collaboration. This allows them to make new friends and form deeper connections that can last beyond the summer camp experience.
In fact, scientific studies have shown that helping others boosts happiness, increases competence, and reduces stress.
As discussed earlier, a positive attitude makes people more approachable – and fun to be around!
It also helps build mutual respect—who knows? Maybe next time, others will help your child with certain tasks when they need it!
6. Teach Your Kids to Be Inclusive at Summer Camp
No parent wants their child to feel excluded.
That's why, at summer camp, the counselors work hard to create an environment where everyone feels welcome and valued. Your child can help contribute to this inclusive environment that fosters friendships.
When your child includes others in activities and conversations, it helps to break the ice and make others feel more comfortable.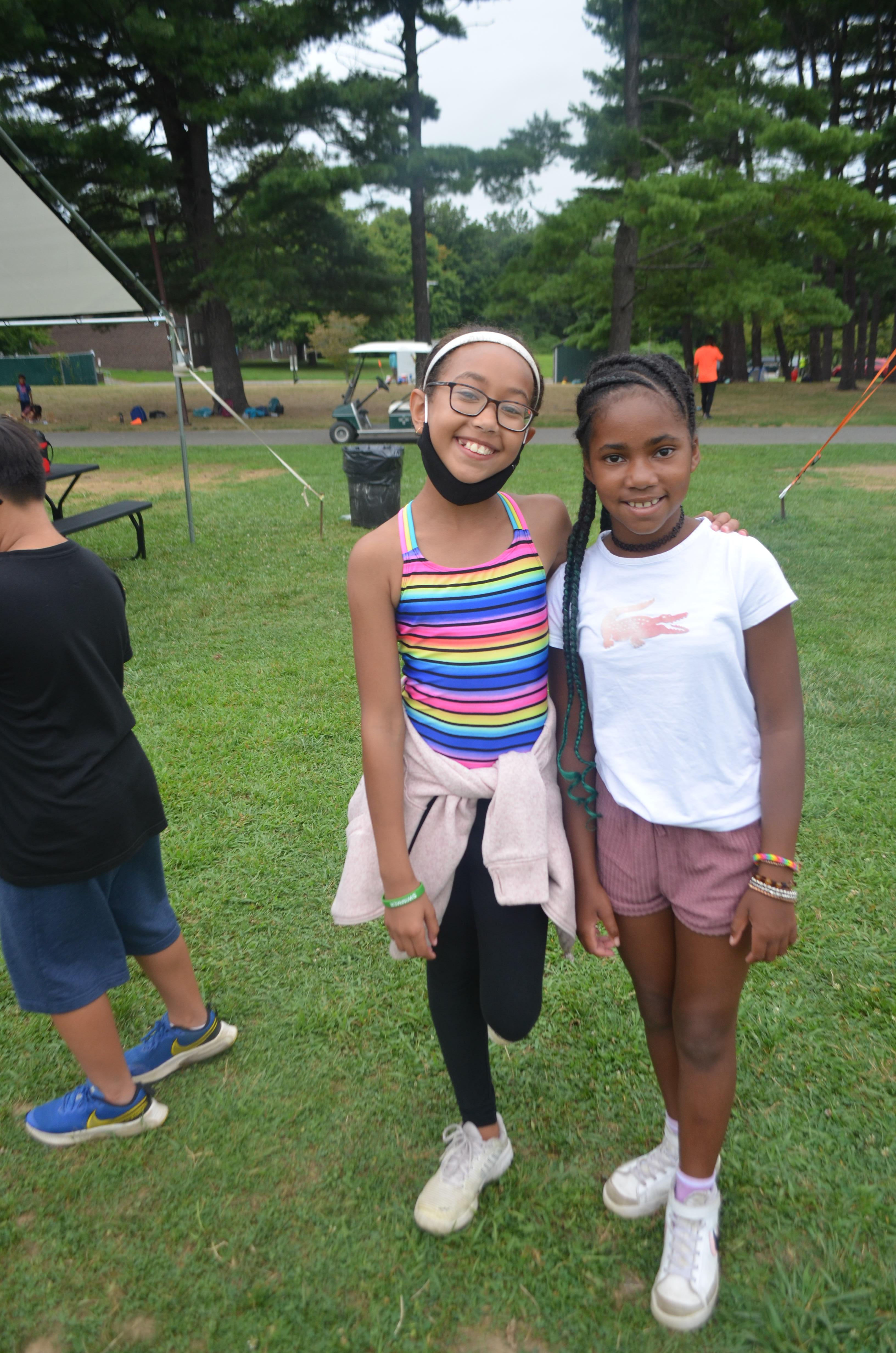 This can be especially important for kids who are new, shy, or nervous asking to join a game or activity.
Inclusivity also demonstrates kindness, giving kids more courage to say hello.
7. Keep It Positive
Positivity is a must—especially at summer camp!
Having a positive outlook is one of the best ways to make new friends at summer camp.
Positivity is contagious.
When your child has a positive attitude, they're likely to inspire those around them to feel more positive as well. People are naturally drawn to those who exude cheerful energy, so by having a sunny disposition, your child increases their chances of making new friends.
According to Shasta Nelson, author of Frientimacy: How to Deepen Friendships for Lifelong Health and Happiness, "Feeling positive is one of the absolute requirements of friendship, and how we choose who we want to spend time with."
Having a positive outlook can help them to be more approachable. When your child is in a good mood, it shows—others will feel more comfortable approaching them. This can lead to more conversations, more opportunities to connect, and ultimately, more new friends.
Whether it's judging others or complaining, a negative attitude can put up barriers that get in the way of making friends.
Evaluating Summer Camps This Year?
Making friends at summer camp is an exciting and rewarding experience. By being approachable, helping others, and most importantly, being themselves, your child can create lasting friendships and memories at summer camp.
Remember, everyone is in the same boat and looking to make new friends—let your child know that they shouldn't be afraid to put themselves out there and have fun!

If you're in the process of evaluating different summer camps, we can help—our brand new Camp Comparison Checklist makes it easier than ever to have all of your summer camp information, from pricing to location, in one convenient place.
Download the Camp Comparison Checklist today!