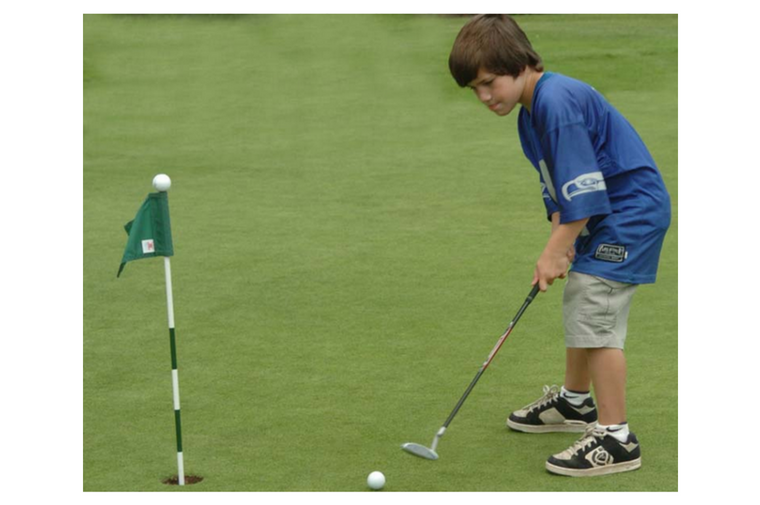 Golf is a sport that requires skill, patience, and focus.
It's also a fun and rewarding sport for children who take the time to learn it.
Whether your child is a beginner or an experienced golfer, attending a golf camp can be an excellent way to improve their game and gain valuable experience.
In this blog post, we'll discuss some key skills and knowledge you can expect your child to learn at a golf camp.
Golf Fundamentals
It wouldn't be a golf camp without working on the fundamentals!

The game of golf has a lot of different factors to consider when it comes to crucial fundamentals—all of which contribute to playing a great golf game and having fun with the sport.

Some of the fundamentals you'll learn at golf camp include:

Proper grip

Stance

Swing mechanics

Alignment
Even children who have been playing for several years can benefit from a fundamentals refresher—after all, they're essential to building a strong foundation for your game.
Course Management
Once we have the fundamentals down, it's time to get into managing the course.
Golf camp instructors will teach your child how to read the course in several ways, including:
Tee shot strategies
Approaches
Putting

Club selection
Remember that golf courses are outside—that means your child will also learn how to read the terrain, weather, wind, and other environmental factors that affect their shot.
Rules and Etiquette
In the game of golf, integrity and etiquette reign supreme.
However, that doesn't mean it isn't fun!
It's easy to assume that the many rules surrounding the sport could diminish the fun, but in reality, they're part of what makes the game so enjoyable.
Golf camp instructors will teach your child not only the actual rules of the game but also etiquette—in other words, how to interact with course staff and other golfers to ensure that everyone has a positive experience on the course.
Mental Game
Golf is as much of a mental game as a physical one. Without the right mindset, it can be easy to fall into a trap of negativity—especially when you have a bad game!
Golf camp will teach your child strategies to manage the mental part of the game better. For example:
Maintaining focus
Managing stress
Staying positive on the course
These aspects of golf are just as important as the fundamentals. Without a strong mental game, it can be challenging to have fun with the game of golf.
Equipment and Technology
Many sports have different types of equipment and tech that can enhance the game, and golf is no different.
At a golf camp, your child will learn about all different kinds of specialized equipment. For starters, there are different types of clubs—you have everything from a driver down to a pitching wedge and everything in between. There are also different types of balls and other accessories that can help your child play a better game.
Beyond the equipment, your child will also have the opportunity to use in-game technology, such as launch monitors and swing analysis tools, to improve their games.
Evaluating Different Golf Camps? Our Checklist Can Help
Attending a golf camp can be a great way to improve your game and gain valuable experience. By learning the fundamentals of golf, course management, rules and etiquette, the mental game, and equipment and technology, you can develop a well-rounded skillset that will help you succeed on the course.
If you're in the process of evaluating different golf camps, we can help—our brand new Camp Comparison Checklist makes it easier than ever to have all of your summer camp information, from pricing to location, in one convenient place.
Download the Camp Comparison Checklist today!