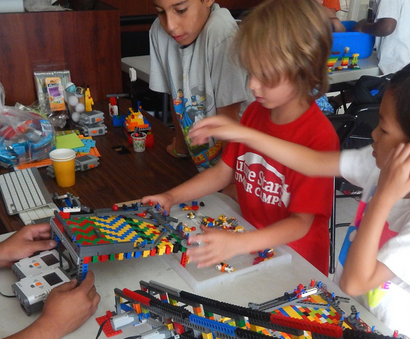 Summer camps aren't only about sports—for children with interests in academic subjects, you've got a ton of great options.
One example is science camp.
Science camp is a unique and exciting opportunity for students to explore the world of science, technology, engineering, and math (STEM) through hands-on learning and experimentation. Below, we'll explore what science camp is, its benefits for students, and the different activities and programs available.
What is a Science Camp?
Science camp is a summer program designed to provide children with an exciting and immersive learning experience beyond the traditional classroom. Typically, the curriculum focuses on STEM subjects: Science, technology, engineering, and math—all of which are critical areas of study for today's workforce.
One of the key features of science camp is the emphasis on hands-on learning. Campers engage in various activities, including conducting experiments, carrying out lab work, and participating in field trips. This approach enables students to apply what they have learned in a real-world context and develop a deeper understanding of scientific concepts.
The right science camp offers campers a unique opportunity to explore STEM subjects in a fun and engaging environment. It can foster a love of science and inspire students to pursue further study in these crucial areas.
What are the Benefits of Science Camp For Students?
Science camp is a unique and immersive learning experience that offers many benefits to campers. Let's dive into some of those benefits.
Developing Critical Thinking Skills
One of the key benefits is the development of critical thinking skills. Science camp activities are designed to challenge children to think deeply and critically about scientific concepts, develop hypotheses, and analyze data.
By engaging in these activities, students develop skills essential for success in STEM subjects and their later lives.
Developing Problem-solving Abilities
Problem-solving abilities are crucial—at science camp and in life.
At science camps, campers face real-world problems requiring creative and innovative solutions. By working through these problems, children develop problem-solving strategies that can be applied to various situations. This prepares them for future academic and professional challenges and helps them become better problem-solvers in their daily lives.
Fostering Creativity and Innovation
You can never go wrong with inspiring children to be creative!
The hands-on and experiential nature of science camp encourages campers to think outside the box and approach problems from different angles. This kind of innovative thinking is essential in the modern world, where new challenges are constantly emerging and new solutions are needed.
Increasing Interest in Science and the Arts
Although some children learn STEM subjects best in a classroom setting, others may require a more hands-on approach—which is exactly what they'll get at science camp.
By exposing students to exciting and engaging STEM activities, science camp helps to spark their interest in these subjects. This can lead to a greater appreciation for STEM and a desire to learn more about these areas.
Many well-rounded science or STEM camps include the arts as well. For example, Future Stars STEAM camps include activities for children interested in art-related subjects, such as 3D design and printing.
Meeting New Like-Minded Friends
It's what camp is all about!
We love seeing campers learn more about subjects that interest and excite them. However, the most important part is providing an unforgettable camp experience, starting with meeting new lifelong friends. Science camp gives children the opportunity to meet new people that share similar interests. This often leads to creating meaningful connections that last a lifetime!
What Types of Science Camps Exist?
Science camp programs come in many different formats and cater to various needs and interests.
One of the most significant distinctions between science camps is whether they are day camps or overnight camps. Day camps run during the day and do not involve overnight stays—they're great for kids who want to get out and have fun without having to spend too much time away from home. Overnight camps offer students the chance to stay at the campsite for an extended period, ranging from a few days to several weeks, depending on the camp. The type you choose will depend on what you and your child are comfortable with.
Science camps may also differ in the focus of their programs—some camps offer general STEM programming that covers a range of scientific disciplines. In contrast, others may specialize in a particular area of science or technology.
For example, a specialized camp focusing on biology versus a general STEM program that includes biology, robotics, computer programming, and other subjects. Specialized camps offer students the opportunity to delve deeply into a particular field of study. They can help them develop specialized knowledge and skills, while general programs allow curious children to try a little bit of everything. It all depends on your specific child!
Science camps may also cater to different age groups or grade levels. Some camps are designed for younger students, such as those in elementary school, while others are geared toward middle or high school students. You also have summer science camps that cater to children of all ages!
Science Camp Activities
Science camps offer a wide range of activities designed to be engaging, fun, and educational for students.
Depending on the program and focus, these activities will vary. However, some possible examples include:
Launching rockets
Designing and programming robots
Biology, chemistry, or physics experiments
Exploring the natural world through Ecology and environmental science
These activities keep science camp interesting and allow children to develop problem-solving and critical thinking skills that they'll carry with them for life.
Why is STEM Education Important?
STEM education has become increasingly critical in today's world as advances in technology and science continue to drive innovation and economic growth. In particular, many high-growth careers require strong STEM skills, making STEM education more important than ever before. Science camp provides a unique opportunity to engage and inspire students to pursue STEM subjects and careers.
By participating in science camp, students can better understand the practical applications of STEM fields and develop a strong foundation of knowledge and skills that will serve them well in future endeavors.
For example, students who participate in robotics activities at science camp may discover a passion for engineering, which could lead to further study in that field and potentially a career in robotics or related fields.
Science camps can also help to build a diverse and skilled workforce for the future. Women and minorities are often underrepresented in STEM fields, and science camps can help to address this disparity by providing opportunities for students from all backgrounds to explore and develop their STEM skills. By inspiring and encouraging a diverse group of children to pursue STEM subjects and careers, science camp can help to create a more inclusive society.
Evaluating Different Summer Science Camps?
Science camp is a valuable and exciting opportunity for students to explore the world of STEM education through hands-on learning and experimentation.
By providing opportunities for critical thinking, problem-solving, creativity, and innovation, science camp helps to build the skills and confidence needed to pursue a career in the STEM fields. Whether it's building robots, conducting experiments, or exploring the natural world, science camp provides a unique and engaging way to learn and have fun at the same time.
If you're in the process of evaluating different summer science camps, we can help—our brand new Camp Comparison Checklist makes it easier than ever to have all of your summer camp information, from pricing to location, in one convenient place.
Download the Camp Comparison Checklist today!