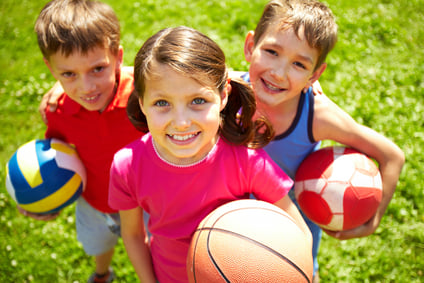 We know that it can be tough for children to choose just one summer camp—and that's okay!
For children who know they want to join a sports camp but aren't sure which sport they want to play, multi-sports camps are the answer.
Multi-sports camps are a great way for children and teens to experience a variety of sports in an exciting and inclusive environment. These camps typically offer a range of sports and activities, giving campers a chance to try new things and build their skills in different areas.
A multi-sports camp helps develop gross motor skills and athletic skills that transfer to all sports. It can also be a good way for an athlete that focuses on 1 sport during the year to get an opportunity to partake in a variety of sports.
So, what sports are actually played and learned at a multi-sports camp?
Below, we'll explore some of the sports you can expect to play at multi-sports camps.
Soccer
Soccer is one of the most popular sports in the world, so it makes sense that it's a common sport played at almost every multi-sports camp, right?
At camp, children will learn the fundamentals of the game, including:
Passing
Dribbling
Shooting
Footwork
Positioning
Beyond the fundamentals, soccer is a team sport—without proper teamwork, children won't succeed. Soccer at multi-sports camp will teach children essential skills around working as a team toward a common goal—skills that translate perfectly beyond the soccer pitch.
Basketball
All you need is a ball and a hoop—that's what makes basketball such an attractive sport for staying active and having a blast!
As one of the most commonly offered sports at multi-sports camps, you can expect your child to have several lessons devoted to basketball. Some teaching topics will include:
Basic rules
Dribbling
Shooting
Passing
Defense
Rebounding
Coordination
Footwork
Similar to soccer, basketball success depends on teamwork. Basketball at multi-sports camp will teach children how to work as a team to succeed, win the game, and most importantly: Have fun!
Baseball/Softball
It's the Great American Pastime!
Both baseball and softball are popular sports for children and teens. From simply playing catch in the backyard to a full game at a local field, baseball, and softball make for an incredible afternoon with friends and family.
At multi-sports camps, campers will learn the rules and fundamentals of these sports, including the three crucial aspects of the game:
Batting
Fielding
Throwing
Expect your child to play baseball or softball at multi-sports camps—they'll come out with better coordination and decision-making skills.
Volleyball
Adding volleyball into the mix at multi-sports camp is a good change of pace from the three sports above—it's great for building coordination and teamwork skills.
At multi-sports camps, campers will learn all of the fundamentals of volleyball, including:
Rules
Positions
Bumping
Spiking
Serving
Footwork
Although volleyball might not be a sport that every child will consider for summer camp, it's often a pleasant surprise and enjoyed by most.
Tennis
Tennis is one of the most challenging and demanding sports to learn—because of this, it's also one of the most rewarding.
Playing tennis effectively demands heightened skill and focus. To get campers started with tennis at multi-sports camps, campers will learn the basic strokes, such as forehand, backhand, volleys, and serve and work on their footwork and court awareness.
Tennis also includes doubles, which is always a great time for campers. Children will get to pair up with a friend and learn how to work together to succeed.
We can't think of a better sport to help children stay active and learn how to overcome difficult challenges!
Track and Field
Sometimes, campers just want to run and burn off some energy—what better way to do this than with track and field events?
Track and field events at a multi-sports camp will vary, but you can expect to see a lot of running, jumping, and throwing—all of which are great for building endurance and strength.
At multi-sports camps, campers will start with the basics of these events, such as the rules. From there, they'll start to work on their form and technique to perform the best that they can in each event.
Comparing Camps? Use Our Camp Comparison Checklist
Multi-sports camps offer a variety of sports and activities for children and teens to explore. By trying different sports, campers can build their skills, confidence, and teamwork abilities. From soccer and basketball to baseball/softball, volleyball, tennis, and track and field, multi-sports camps provide a great opportunity to try new things and have fun while staying active.
If you're in the process of evaluating different multi-sports camps, we can help—our brand new Camp Comparison Checklist makes it easier than ever to have all of your summer camp information, from pricing to location, in one convenient place.
Download the Camp Comparison Checklist today!