Many sports have a rich and interesting history.
Tennis players used the palms of their hands before rackets were invented. Basketball used a peach basket for a hoop and referees had to climb up a ladder to retrieve the ball.
Volleyball is another sport with an interesting history. Before growing into a global phenomenon, it had humble beginnings.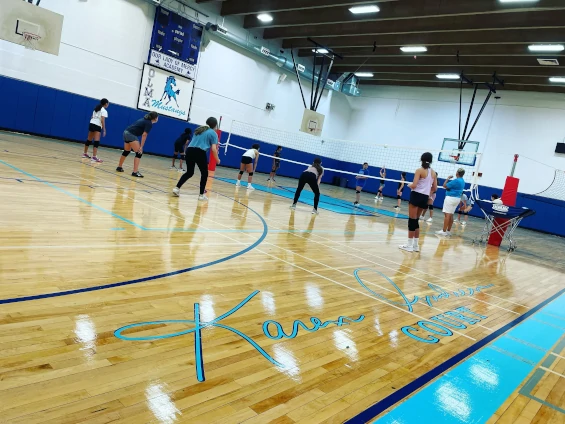 Here's the history of volleyball, from its invention to the game of today.
Who Invented Volleyball?
Way back in 1870, the inventor of Volleyball, William G. Morgan, was born in the state of New York.
After carrying out his undergrad studies at the Springfield College of the YMCA (where he ironically met the inventor of basketball, James A. Naismith), Morgan spent the following year at Auburn YMCA. From there, he went on to become the director of physical education at YMCA Holyoke, Massachusetts.
Morgan's classes began to grow quickly. His leadership was universally respected. However, to change up his program, he wished to adopt a competitive, recreational game. Naismith's game of basketball suited the younger generation, but Morgan wished to create a less strenuous game suitable for older folks.
Enter volleyball.
Volleyball Is Born
Before the introduction of volleyball, Morgan had nothing similar to provide him direction. In 1895, he combined elements of baseball, basketball, tennis, and handball to create a brand new game that demanded far less physical contact. He took a tennis net and raised it to 6 feet, 6 inches—just above the head of an average height male. Morgan decided to call his new game "Mintonette."
This name didn't last for long, though. In 1896, while demonstrating his brand new invention, it was remarked that the action of sending the ball back and forth over the net resembled a "volley." Based on this information, the game's name was changed to "Volley Ball."
This name stuck until 1952, when the administrative committee of the USVBA decided to shorten it to one word: volleyball.
Tremendous Growth
The next couple of years saw the game grow across the country before heading abroad. In 1900, Canada became the first country outside of the US to start playing volleyball. By 1916, it was estimated that a total of 200,000 people were playing the game worldwide.
In April of 1947, the first international body for volleyball was introduced: Fédération International de Volleyball, or FIVB for short. 14 different nations sent representatives to Paris with the end goal of setting up an association to govern volleyball at an international level. Two years later, the Men's World Championships were held in Prague. Three years after that, the first women's tournament was held in Moscow.
Volleyball finally joined the Olympic Games at the Tokyo games in 1964. There, Brazil, the Soviet Union, and Italy earned the most medals, with six each. In 1996, beach volleyball made its first Olympic appearance at the Atlanta games.
Volleyball Today
Today, volleyball is played around the world as one of the most popular sports worldwide, being recognized as one of the "big five international sports." Despite humble beginnings, the FIVB is now the largest sporting federation in the world, with 220 affiliated nations worldwide.
Whether it's being played on an indoor court, outdoor court, or on the beach, there's no doubt that volleyball is a sport enjoyed by people of all ages. It's a mainstay in elementary school, high school, college, and at the Olympic level. As the years go on, volleyball will continue to be a favorite among sports enthusiasts.
Learn the Game of Volleyball With Future Stars
If you're looking for a fun sport that your child will enjoy playing during summer camp, volleyball is a perfect choice. The Future Stars volleyball program is available at five of our locations, making it easy to get started!