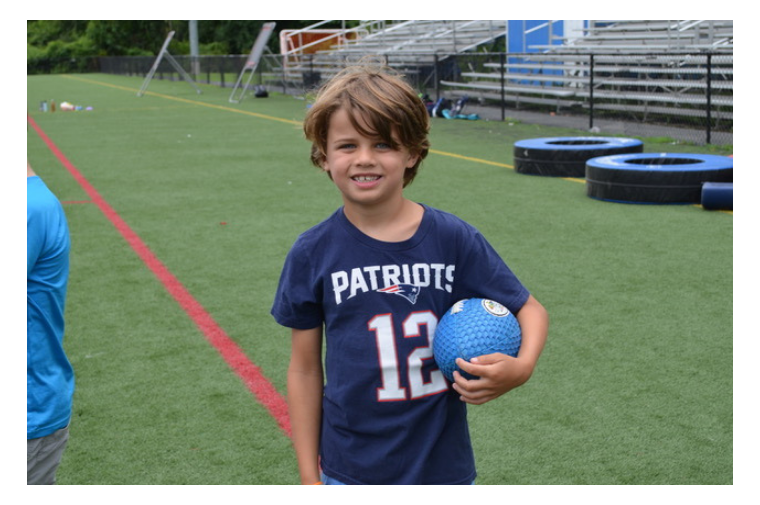 Football is a physically demanding sport that requires skill, discipline, and teamwork. For the right child, it can be one of the most rewarding and fun sports out there.
If your child wants to take their game to the next level while meeting new friends along the way, attending a football camp can be an excellent way to improve your skills and gain valuable experience.

Here's the thing: Not all football camps are created equal, and it's important to choose the right one for you. In this blog post, we will discuss five key factors to consider when choosing a football camp.
Determine Your Goals
Kids can get a lot out of the sport of football—they can learn discipline, how to handle pressure, winning and losing, camaraderie, and much more.
That said, to choose the right football camp for your child, you'll need to figure out what their goals are. As you've probably figured out, there are many football camps out there that cater to different levels of skill, experience, and how seriously they take the sport.
If your child is looking to take their game to the next level, you'll want to find a camp dedicated to this—look for seasoned coaches with experience helping kids go on to college or even pro football.
On the other hand, if your child is more focused on having fun and making friends, that's fine too! You can find many camps that help children learn the game while meeting new friends. Again, look at the coaching staff and their experience and philosophy.
Once you understand what your child wants out of their summer football camp, you can move on to evaluating the camps that meet these needs.
Look at the Camp's Curriculum
Figured out your child's goals? Great! Now it's time to look at the camp curriculum and figure out which camp works best.
The camp curriculum can give you crucial info for children who want to improve their football skills. For example, a football camp curriculum will likely focus on three primary areas: Offense, defense, and special teams. Depending on what position your child wants to play, you may want to select a camp based on which skills are being taught. Or, if your child is just starting out in the sport, it's probably best to get into a camp with a broader curriculum that covers several different positions.
Evaluating the camp curriculum is vital to ensure that your child goes into the best possible football camp—make sure you aren't skipping this step.
Evaluate the Coaches
One of the vital parts of the football camp experience is the coaches—after all, they're running the show!
Experienced and knowledgeable coaches who are passionate about the sport of football are a must. Critically important is a coaching staff that emphasizes safety. In most cases, football camps will offer coach and instructor information concerning past coaching experience or with experience in the sport.
For example, the Future Stars Football Camp at Farmingdale State College outlines information on the camp director, Jonathan Gill:
A seasoned coach with 14 years as the LIU Post passing game coordinator and strength and conditioning coach. A native "Long Islander," coach Gill competed for 4 season at quarterback with the University of Akron. During his time at Post, Gill has coached three All-Americans, while also showcasing six quarterbacks receiving conference, regional or national awards. An abundance of football knowledge and experience enables coach Gill to transition his coaching to the youth levels across Long Island, where he also trains players privately.

Additional staff consists of collegiate coaches and players who share their passion for the game with our campers.
You can also make arrangements to meet camp instructors beforehand. Many camps allow you to meet the staff at a separate meeting or by attending an open house.
Consider Camp Size and Location
Camp size is something that is often overlooked by parents evaluating sports camps—including football.
Smaller camps offer certain advantages. For example, with fewer children at the camp, coaches will spend more time working on the technical skills required for the sport.
While a bigger football camp can offer technical skill work as well as more scrimmage and gameplay. Your child can test their skills and challenge themselves, in a healthy way, of course. Additionally, the larger camps allow the players to learn the value of "team" and the importance of supporting your teammates. There are also more opportunities to meet new friends!
Don't forget about location, either—you'll want to choose a camp that's in a convenient and safe location for you.
Check Reviews and Testimonials
Meeting with camp instructors and staff is important for getting the full picture of a summer football camp. However, you'll also want to consult camp reviews and testimonials—that's where you're most likely to get the most accurate representation of what the camp is like.
If you have friends or family that have put their children through the camp, ask them about it. They'll have great insight and information about the camp and whether it's a good fit for you.
Reading reviews online is your next best bet—however, be wary about fake or false reviews. Longer, more detailed reviews are likely the most accurate and can tell you the most about the camp.
Looking into Different Football Camps? Download our Camp Comparison Checklist!
Deciding which summer football camp is right for your children can be tough—especially with so many options available to you.
Our brand new Camp Comparison Checklist allows you to easily compare and contrast summer camp options in one convenient location. You can track costs, program activities, dates, locations, and more so that you can pick the best football camp for your child this summer.
Download the Camp Comparison Checklist today!