From complete newbies to veteran tennis players, tennis camp is a great option for learning the sport, honing your child's skills, and meeting lifelong friends.
Tennis camps are always a memorable and exciting experience. If you or your child are wondering what to expect, consider this your go-to guide!
A Typical Day at Tennis Camp
While many tennis camps feature similar schedules, we'll discuss what a typical day looks like at Future Stars tennis camps near New York City. Consistent at all Future Stars locations, the experienced coaches will maximize the players' progress in a fun, inclusive environment!
The First Day
The first day of camp will include an orientation—campers will get the lay of the land and be placed into appropriate groups based on three different factors:
Age
Experience
Skill level
We understand that some kids prefer to go to tennis camp with a friend, so Future Stars staff will do everything we can to accommodate these requests. Rest assured that new camp friendships will be established quickly!
While the first day of kids' tennis camp is similar across Future Stars locations, the following days can vary based on location. Not to fear—every tennis camp at Future Stars includes many of the same core activities; they simply occur at different times throughout the week.
Here, we'll talk about a typical day at Future Stars Tennis Camp at SUNY Purchase.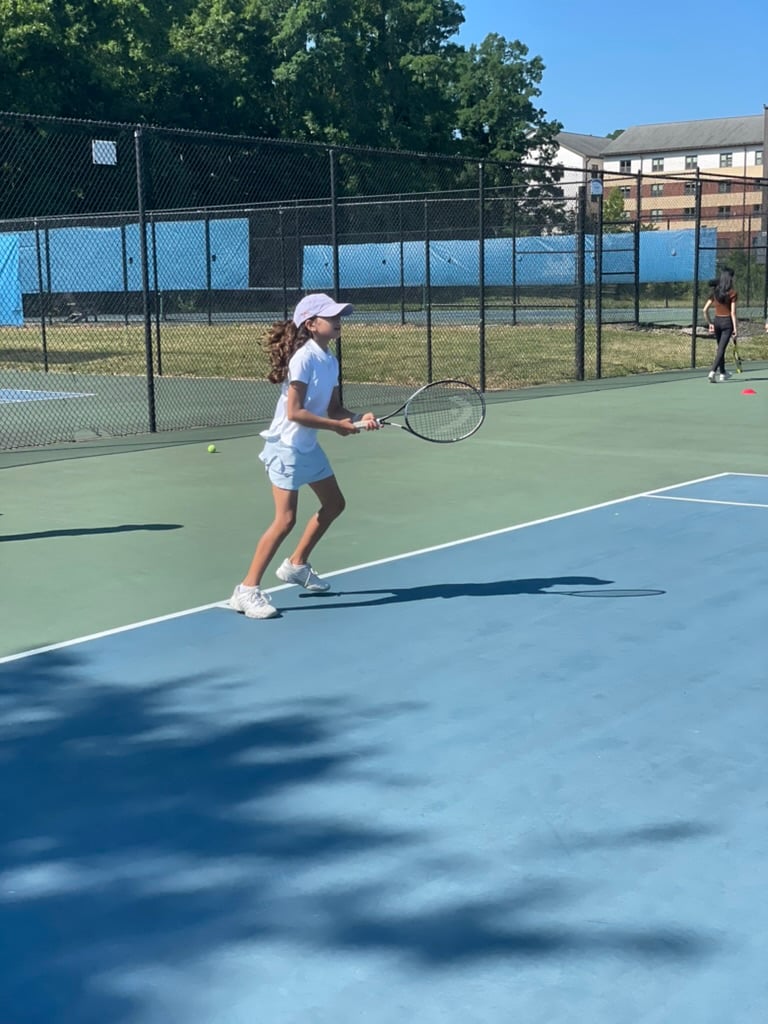 You can find more information about the tennis camp schedule at other locations here.
Mornings
The day begins at 9 AM, when campers will be separated into groups. From there, the morning starts with some light stretching and warm-ups—no one wants an injury at tennis camp!

Soon after comes drills and the technical work on mechanics. Groups will spend part of the morning working on level-appropriate skills, including ground strokes, volleys, serves, footwork, and individual drills.
The drills are designed specifically based on the skill level of the players.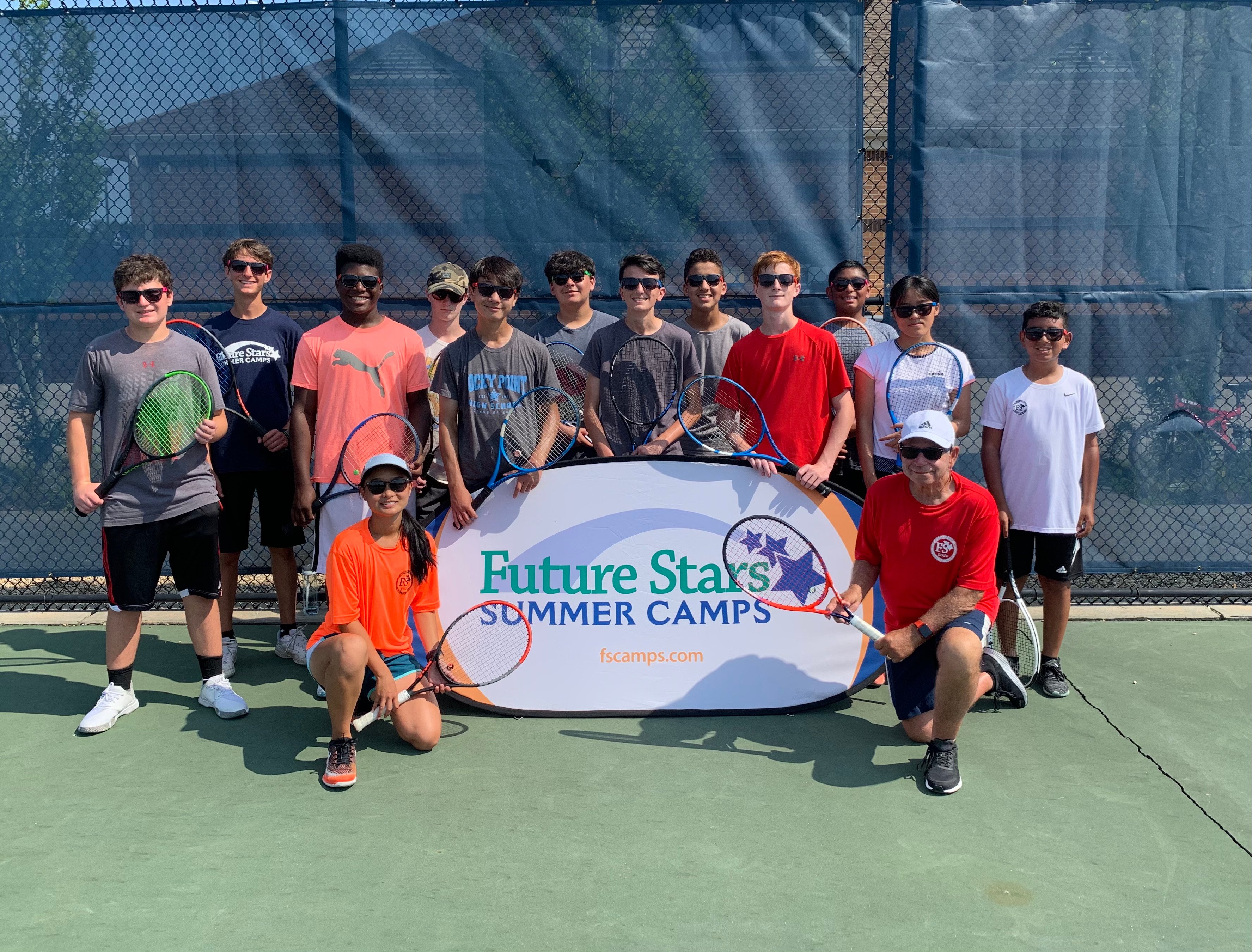 The morning will also include some field play before lunch. Here, campers will have the chance to burn off some energy in an open-field environment with fun activities outside of tennis. This allows for socialization and exercise that keeps them fresh when they get back to the tennis courts.
After that, at 12 PM, it's time for lunch!
Afternoons
Shortly after lunch, campers will participate in match and tournament play. This is where kids will put the skills they've learned into practice, pairing off against other players of similar skill level.
Additionally, the campers will work on "point play" to improve their tactical strategies while reinforcing the technical work from the morning sessions.
Although there's an element of competition here, the most important part is for campers to have fun!
After match play, it's time to beat the heat—everyone gets in the pool!
What better way to finish the day after dominating on the court? Camp locations that don't have a pool will still give kids a fun way to cool off.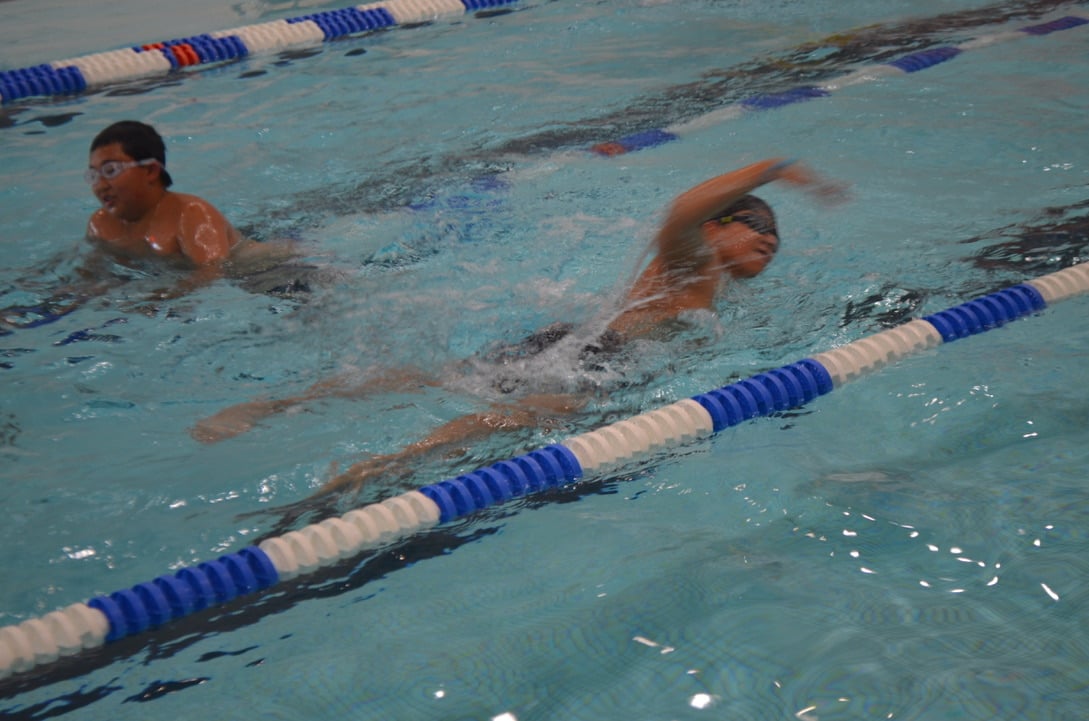 After swimming, campers will participate in their very own version of the Davis Cup: A famous international tennis tournament. There, they'll be able to show off their newly learned skills!
Other camp endeavors throughout the week may include crazy t-shirt, talent shows, and other activities.
And should inclement weather occur, rest assured—rain won't get in the way of camp fun, with camp staff ready to run activities indoors if needed.
Once 3:45 PM rolls around, it's time for the camp day to wrap up. Then the fun will start all over again tomorrow!
Ready to Sign Up For Tennis Camp?
There's no better place than Future Stars for kids in the New York City area to learn from experienced coaches and staff. At tennis camp, children not only get to hone their craft but also meet fellow campers that become friends for life.

When choosing a tennis camp for your child, you'll want to pick one that aligns with their interests—whether it's a competitive fire or a friendly camp focused on making new friends.
Our brand new Camp Comparison Checklist lets you easily compare and contrast summer tennis camp costs, activities, dates, and locations.
Access the Camp Comparison Checklist today and find a camp your child will love!