Children with interests outside of sports and outdoor activities need fulfilling camp experiences too.
Sure, soccer camp is the perfect place for children invested in athletics. But what about those who are more interested in academic pursuits?
That's where STEAM camp comes into play.
The term "STEAM camp" is likely confusing to many who are unfamiliar with the concept. Thankfully, we're here to explain what a STEAM camp is and who it's best suited for.
What is STEAM Camp?
A relatively newer movement in the education world, STEAM is an acronym for "Science, Technology, Engineering, Arts and Math." The STEAM movement is designed to teach students how these academic disciplines impact the world and prepare them for the workforce of the future.
At STEAM camps, campers will get the opportunity to transform their passion in any of these subjects into life-changing talents with the help of our partnership with MacInspires.
There are a variety of different STEAM education programs, all of which have campers using different technology to develop and create works of art while learning brand new skills. Many of the innovative fields taught at STEAM camp might not be readily accessible in a traditional classroom or school setting.
Which Programs Are Offered at STEAM Camp?
Future Stars STEAM camps have two different categories of programs: Basic STEAM education and advanced STEAM programs.
Some of the basic STEAM Education programs include:
Coding and game design
Stop motion & film
3D design & printing
Robotics
Junior builders
Junior scientists
Minecraft-related activities
All of the basic STEAM education programs are available to ages 7 through 16 without any additional fees.
The advanced programs, however, may have some additional fees depending on which one you choose. These programs are also limited to ages 13 through 16. Some of these programs include:
Woodshop
Rube Goldberg machine
Build your own PC
Wearable & fashion tech
Indoor drone racing
There's a wide variety of different programs for campers to choose from and inspiring skills to be learned across the board.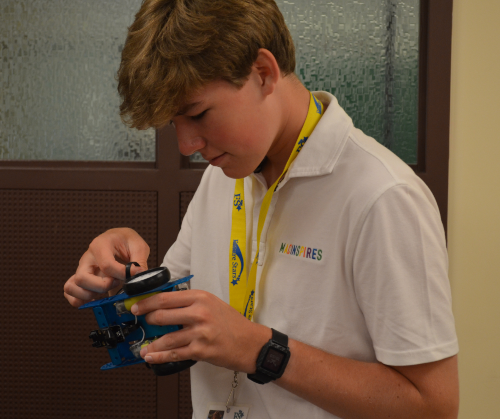 Why STEAM Camp?
As we've mentioned above, Future Stars STEAM Camp offers something for everyone. The technology field is vast and has many different aspects to it, and this is reflected in STEAM camp.
Campers with an interest in computer hardware could learn how to build their own PC. Others might have an interest in film and would be better suited for the stop motion & film program. The possibilities are nearly endless.
Lastly, as is the case with any summer camp, children get the opportunity to make new friends and memories with other campers who share similar interests. While the opportunity to learn new skills is important, there's nothing more crucial to a fulfilling camp experience than forming these connections.
Who is a Good Fit for STEAM Camp?
Figuring out who is a good fit for STEAM camp is simple: Any child with an interest in the science, technology, engineering, arts, or mathematics fields is perfect for STEAM camp!
These camps are a great fit for children with analytical minds. Children who like to build things. Children who have an interest in computer software and how it's developed. The sheer amount of program options makes STEAM camp a great option for children with a wide range of interests.
It should also be noted that STEAM camp isn't spent entirely inside. There are some opportunities for campers to burn off some energy, whether it's during designated swim time or field time outside. Analytical minds need exercise too!
Skill Level Requirement for STEAM Camp
We've mentioned many times throughout our various camps that all skill levels are welcome, and STEAM camp doesn't break this trend. All it takes is an interest in any of these programs. Future Stars works with campers and provides a unique experience for everyone based on their skill level, and allows them to excel at their own pace.
Which Locations Offer STEAM Camp?
Currently, STEAM camp is offered at the following Future Stars locations:
STEAM Camp Offers a Learning Experience Unique From A Traditional School Setting
When it's all said and done, STEAM camp gives children the opportunity to learn new skills and pursue new passions that might be more outside-the-box than traditional classroom learning.
All of this while making new friends and memories to cherish for a lifetime.
As we've mentioned, summer camp doesn't only have to be about sports, and Future Stars STEAM camp gives campers with an interest in more academic pursuits a chance to shine.
What are you waiting for? Enroll your child in STEAM camp at one of our available locations today. You won't regret it!